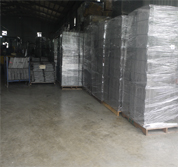 Suspendisse adipiscing rhoncus massa, sit amet sollicitudin quam vulputate non. In non turpis nisl.
Company Profile

We, Song xing co.,LTD., established in 1986AD. We manufacture a variety of hard product, for example, outsize cabinet, upright frame and bowls and dishes holder…etc. Our product mainly are applied to kitchen and bathroom storage. In addition, we also manufacture additional fixtures. We export our product about 70% for America, Japan...etc, for example, IKEA and other famous brands, and sell for internal stores about 30%. Because our request of quality is strict, we are praised our quality by our customer.
We not only design and develop all kind of functional racks and storage shelves, but also select aesthetic and easy clean stainless steel material to replace traditional iron wire. It has indeed promoted people's life quality by making the beautification and utalizing indoor space efficiently. Moreover, except for the size of our product in the catalog, you also can change the size according to your need, and we also offer the ODM/OEM service for customers. Song xing co.,LTD devotes to advance quality, service and novelty. Welcome to offer your samples or develop new products together.